RIVIAN – More than Just another EV Manufacturer?
With new and old companies announcing their move into EVs, where does RIVIAN sit, and what makes them stand out?
I'm going to start by making a bold statement
RIVIAN has to be my favourite Electric vehicle manufacturer so far, and If i had the money and they were available right now, i'd have either of the R1T or the R1S or preferably both vehicles sitting on my driveway and I would happily convert their Amazon truck into a work / camper vehicle too!
But how can I justify that statement?
If you knew me personally, you would probably already know that I love anything with a motor. I've loved cars and motorbikes since I was young kid driving on the beach on my Dads knees, and I've been driving oil burners of one sort or another ever since for over 25yrs. I'm also a huge fan of Design & Innovation so if you can create something that involves both, well then i'm a fan.
While there have been some interesting environmentally suited vehicles over the years they've all been, well kind of dull, boring and drab looking things, which invoke feelings of boredom rather than excitement.
Sorry Toyota but the Prius is the definition of what i'm talking about, it even looks like the designer was so bored they fell asleep while drawing it, with the pen sliding awkwardly off the tail end then dropping suddenly to the bottom of the page. Oops! er that'll do.
At this point your probably thinking what about Tesla?
Tesla have definitely blown that statement right out of the water. Not only have they created decent looking (Ignoring Cybertruck) practical and fun vehicles without range anxiety, but they've also priced them at a reasonable price range and backed them up with fast charging points too, so they've been more than a challenge to regular ICE manufacturers and they've pushed EVs into reality.
While I love what Tesla have done, and continue to do, we need diversity and competition, and when you look across the Tesla range there are certain vehicles missing and this is where RIVIAN have stepped in.
RIVIAN EVs – the next chapter in Electric Vehicles
When you look at most cars they do the same thing, and in an almost identical way, just with a different badge stuck on them.
When you look at RIVIAN's vehicles they don't fit this mould, there's just something different about them, and the closer you look, the more you'll notice. It's in the design & features, that you can see that these vehicles really are different.
Design is all over these vehicles, and its clear a lot of thought has gone into creating them.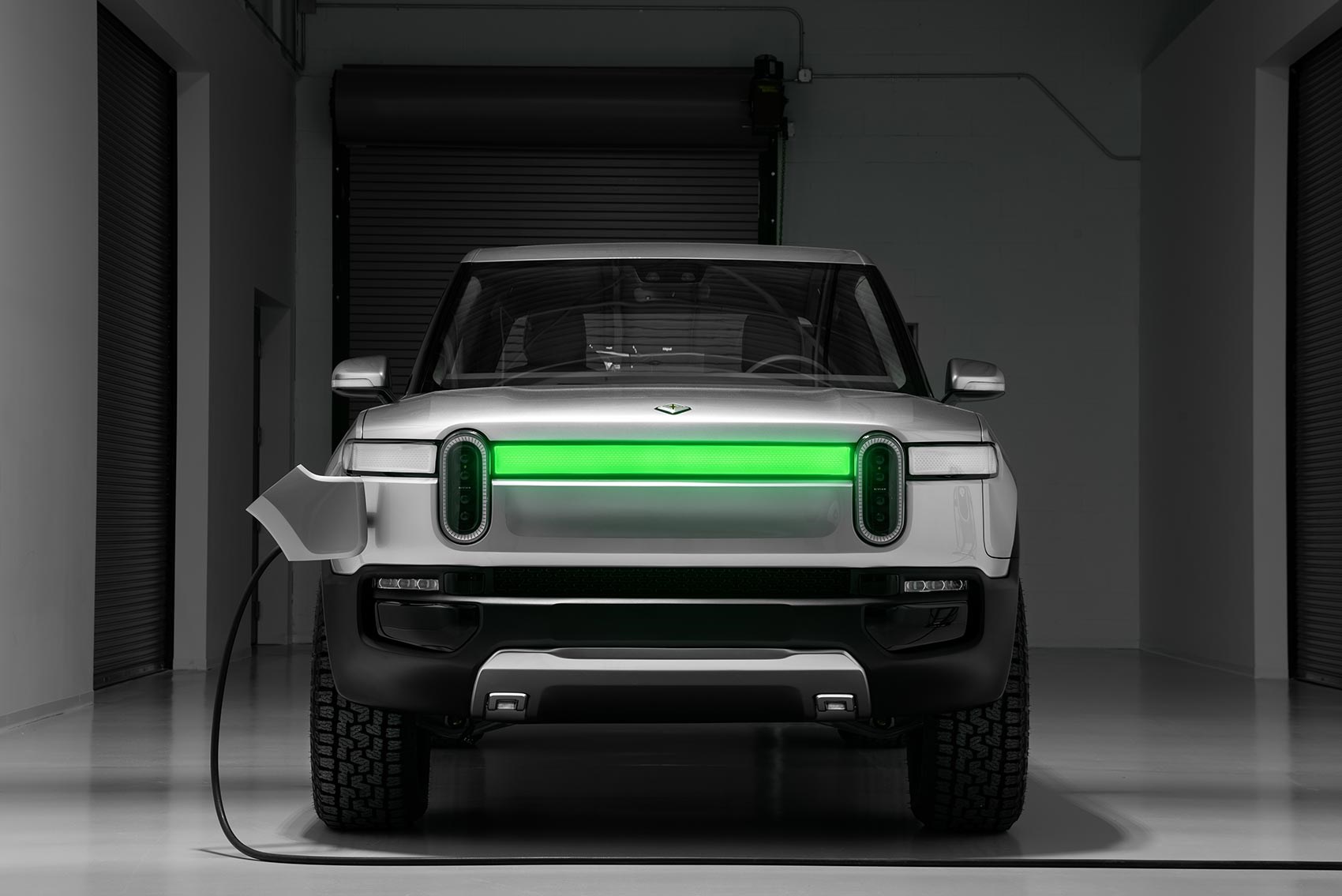 An example of this additional thought can be seen with the light bar between the headlights. This area is also used as a battery indicator (See image above). It glows green to show how much charge the RIVIAN has while charging, so if your inside while it charges, a quick look outside and you can clearly see your vehicles state of charge. It's this attention to detail that makes them different and i'll cover this more, later in the article.
But that's not where they started this project. In the beginning when they started on the road to create a new EV, the RIVIAN team admit that they walked into the same mould, starting with a sporty little EV that just wasn't really anything new.
Two years of research and development later and RJ Scaringe, boss of this new venture looked at what they'd come up with and scrapped it. It wasn't right, it wasn't enough, he wanted to start with a blank sheet and thankfully that's what they did.
The New Design Brief was to create a serious lifestyle vehicle, with a design that stood out and lended itself to growth.
So with that in mind RIVIANS vehicles have been built to be modular, based on their "Skateboard" chassis (Image above), this allows them to expand the range from Consumer based models to Commercial models too. This isn't by accident, this was forward thinking and probably why Amazon have already looked at partnering with them to create the new electric Amazon delivery vehicles.
Creating a modular vehicle design gives RIVIAN freedom, freedom to develop and grow their range as and when they choose to, according to market changes and their needs as a business, but also the freedom to create something usable and new.
Lets start with how the new RIVIAN vehicles look
Both vehicles have the same front end design built around the stadium lights and the central light bar that joins them together. It's this subtle futuristic look that shouts i'm different and sets RIVIAN out there for all to recognise with their signature look.
As I mentioned earlier, the modular design means both vehicles share a large part of the design DNA, but it's clear from the outside that once you move past the driver seats things start to change as you move into the back of the vehicles, with the R1T Being the Truck and the R1S being the SUV body types.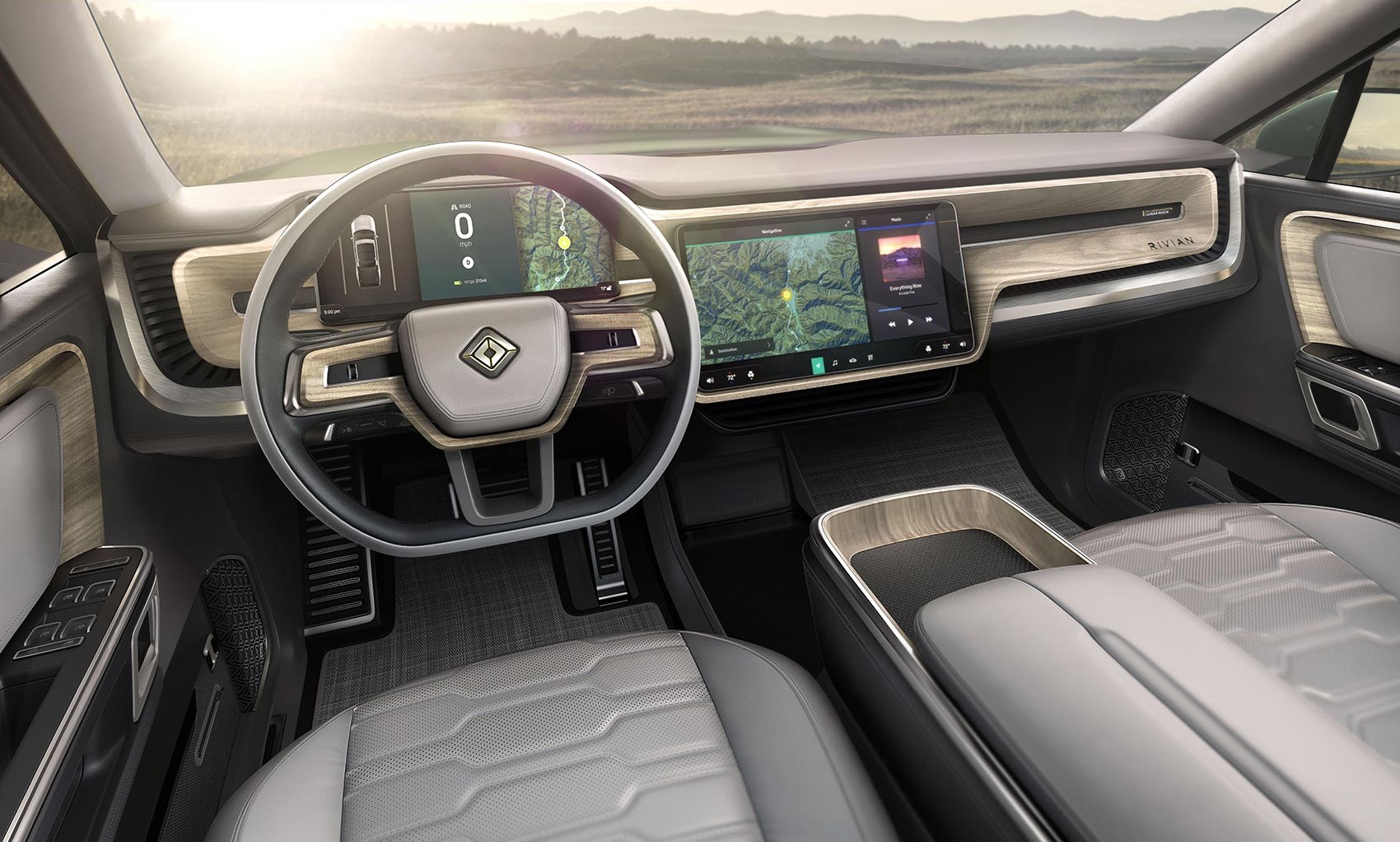 Moving inside, and the interior on both vehicles is clean and functional looking with a cockpit style that we're all used to, but with a twist. Unlike Tesla, RIVIAN's vehicles have an instrument cluster for driver information as well as a huge touch screen for everything else.
The materials used inside, are there to make the vehicles interiors feel plush, with real wood inlays and quality ethical fabrics and surfaces like Vegan Leather, Recycled headliners and Recycled Mats.
Everything inside is also designed to be functional and fitted ready for true exploration and usability.
These are vehicles that have been made to take you off the beaten track, they've been designed to get dirty. No really, the beauty of a skateboard chassis is that it's flat, so the interior space is not moulded around chassis parts and drive shafts, not only providing more internal space for occupants but also creating a flat floor that's great off road and easy to clean both inside and out.
Taking advantage of this, the interior design team have created mats and flooring that are designed to get muddy and then wipe clean. Rubber flooring and mats made from the same type of recycled material used for outdoor furniture, look great in the RIVIANs, but also provide practicality for this type of use. This attention to detail and look of quality actually works alongside the practicality.
This is design and detail with full functionality rather than the design over practicality that most vehicle manufacturers opt for, and part of why i'm so impressed with these vehicles.
Watching the promotional videos and interviews from multiple sources online (including the team at Fully Charged) you really start to notice just how many design features have made it to final production. Unlike other car makers who add useful features here and there and then remove them again over time, it seems like RIVIAN just keep going as part of their vision to do things right and to keep innovating.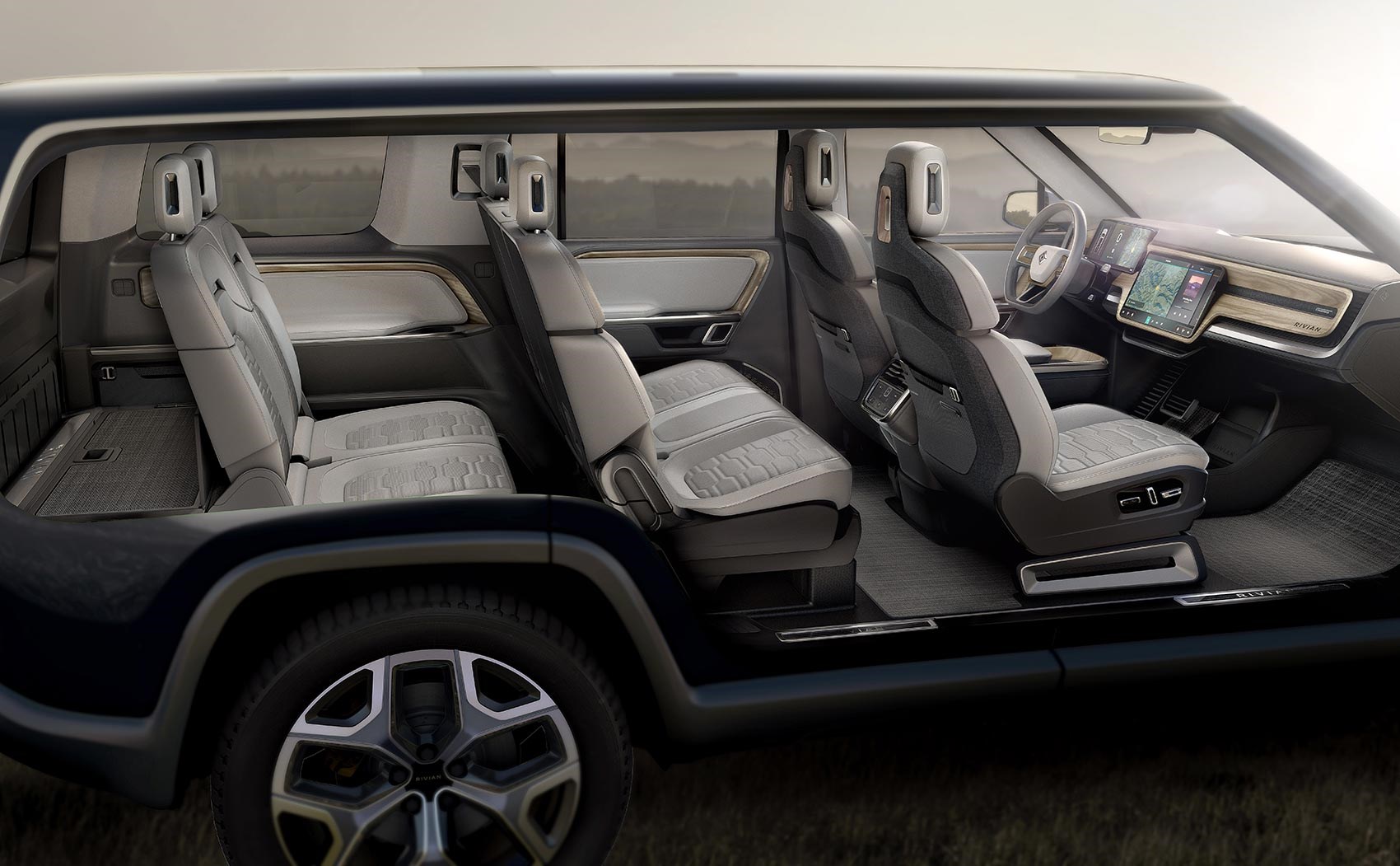 Not sure what I mean? Take a look at the car on your driveway. When you bought it, did you look at the storage, the size of the boot for example? Maybe you were planning for things like shopping bags, buggies and nappy bags or maybe you were planning to carry a laptop, suit bags, golf clubs, your Gym kit or all of the above.
Whatever your thoughts and reasons, now look at what the manufacturer gave you to make carrying these things easier. In most cases, if you're lucky, you might have 1 or 2 bag hooks fitted, and more than likely they aren't even very usable because they're set too low, or they're too small or weak to hold more than a shopping bag with crisps and a loaf bread inside.
Now look at what they gave you to light this space when its dark, you'll probably find a tiny, useless, dull light with an old fashioned bulb inside to light the area too, just like the example below.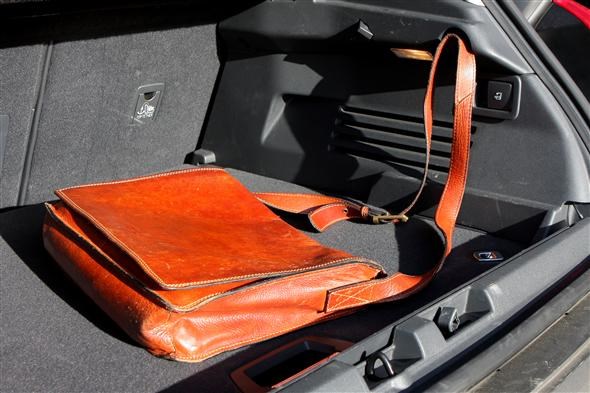 Now take a look at RIVIAN's vehicles, firstly there's a FRUNK (Front Trunk) which isn't new or ground breaking in itself, most EV's have this as a feature, it's the area that would normally be filled by an internal combustion engine, however with most EV manufacturers this area is still quite small, and you'll be lucky to fit much more than your charging cables inside.
In Comparison RIVIAN's FRUNK is huge at 11.1 cu ft, thanks again to their skateboard design, and it's also full of metal shopping hooks that fold flat neatly into the side when not in use. But the design doesn't stop there, the lower area is plastic lined, with another washable mat in case you have any spillages or want to use it for muddy or wet items and the carpet material used by RIVIAN is a SuperFabric which is an abrasive and stain resistant extra durable material, that's perfect for high use areas, providing both practicality and longevity.
If we also compare lighting, the whole area is lit by multiple long LED strips to make accessing your things in the dark easy too. Are these ground breaking new ideas?
No of course not, but they're here, and this attention to detail is carried throughout their vehicles. The team at RIVIAN have gone out of their way to think about the end user, designing features that make using their vehicles a pleasure and shows how much thought has gone into them.
Open the drivers door and you'll find another of these features straight away. The drivers door has its own rechargeable torch, charged in the door by the car and cleverly making use of a single 2170 battery cell as found in the main vehicle battery packs. This vehicle is designed to be used by people for all sorts of uses, and in many of those uses a powerful torch that is always charged and is easy to access, is an ideal feature.
Another more obvious example of their continued design features is the Gear Tunnel. This is very new and a very clever design feature built into the R1T Truck.
Again this isn't an addon feature, RIVIAN designed these vehicles from the ground up and starting with a blank sheet, so features like these have been designed right from the start, and are part of the DNA of the vehicle.
The Gear Tunnel is exactly what it sounds like, but it's not only a very clever use of dead space, it solves multiple issues of owning a truck too.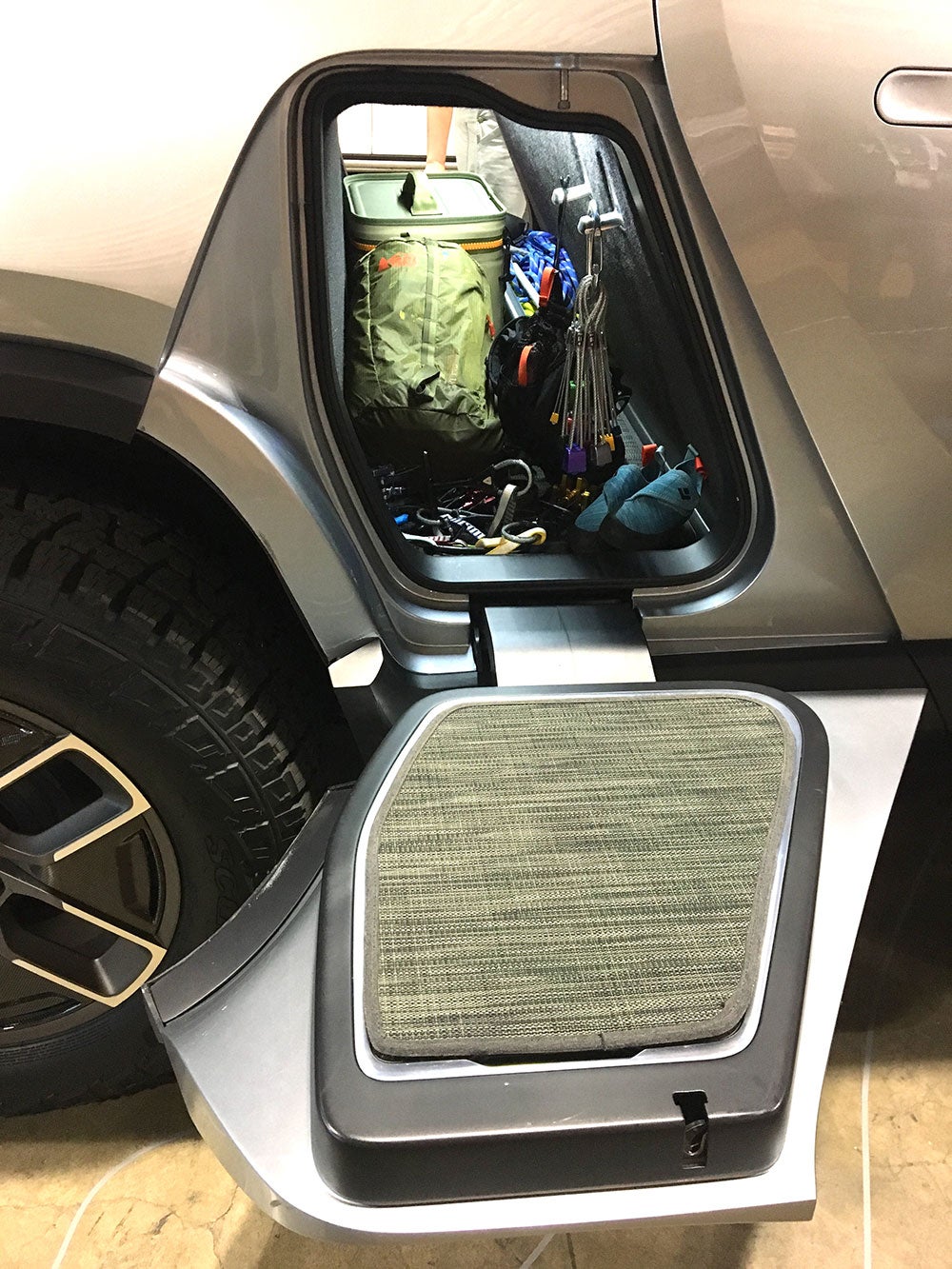 Firstly, its a gear tunnel, it's there to shove things into. Now that might not sound like a lot, but if you've ever used a double cab pickup truck, then you'll know the storage area behind the back seats is well, awkward, and not the best space to use, and while you have the big truck bed at the back, it's not really a useable space like a boot would be (trunk if your not from the UK) because its not weather sealed, so the truck bed gets dusty and in a lot of cases wet, and your stuff will slide all over as you drive. Also if your stuff is at the far end of the truck bed, its a pain to get to.
What the Gear Tunnel provides, is a real useable, easily accessible boot space of 12.4 cu ft for a pickup truck.
But it's more than that, both sides open to give you access to the tunnel and these opening doors become useful too. Once folded down, the doors become a step to help you load and unload the roof or tray area, and they also create a seat on either side to sit on, or sit and change your footwear and clothing.
The Gear Tunnel just like the FRUNK is also waterproof, has more of the wipe clean mats both on the inside and on each door, and also includes another long LED light and more of the folding metal hooks to keep things secure. It's also a great area to dump muddy and wet clothes too.
Surprisingly we've still not covered all this area can do.
If your off exploring or working remotely you'll probably carry camping equipment to cook and clean too, so RIVIANs designers have not just made a storage area with the Gear Tunnel, they've gone another step further and created an optional, made to fit, Cooking drawer with built in purpose made cookware and facilities too. (see images below)
Open the side of your Gear Tunnel and slide out your optional Gear Kitchen with Cooking (Induction hob) and washing facilities and open up one of the built in drawers to access your made to fit cookware set. (See pictures above) This is a fantastic use of space and it also saves the main storage area / truck bed for other things. No need to access lots of boxes of kit to find your camping gear, instead pull up sit back and enjoy your surroundings.
Moving around to the back of the Truck and even the truck bed has some interesting design features.
Firstly there's another waterproof and dustproof storage area under the bed floor in an area normally used by a fuel tank and exhaust system. In standard form this space is made to store a full size spare wheel, however it can also be used as another clever storage space. Whatever you use it for this space is also designed to stay clean as the RIVIAN designers have made this space dust and waterproof and it also doubles as a cooler, with an integrated plug for easy drainage.
They've also added a system called Gear Guard. Gear Guard is RIVIANs remote monitoring system that features a cut-resistant locking cable that wraps around your gear and plugs into the bed wall, connecting directly into the vehicle security system. This allows you to remotely monitor your gear through the Rivian app and receive instant alerts if the system senses an interruption. A camera fitted in the bed also monitors your gear as part of the vehicles security system.
Moving to the truck bed sides and the design ideas keep coming.
Need a power source to run your tools, power your laptop, charge batteries or anything else from the rear of your truck? Well they've covered that too with 3 110v Outlets (I'd presume these would be converted to 240V for the UK market) tucked neatly behind a flap in the area before the wheelarch.
Flick your eyes across to the opposite side and you'll see they've gone even further here. If your off exploring or driving off the beaten track and taking the truck off road, then you'll need to lower your tyres to improve the grip and the ride quality, but that means carrying an air compressor, right?
Not with the R1T Adventure Package. With the Adventure Package they've also fitted an Air compressor in the truck bed area.
A digital interface lets you set your desired air pressure output up to 150 psi. The quick-connect nozzle with a hose extends to all four wheels and there's also a hose and nozzle set that fits nicely in the Gear Tunnel door for bicycle tires, inflatable rafts, air filled tents or for air blasting your kit or tools clean and dry.
Normally these areas in a truck bed are still pretty awkward to reach, because the tailgate is in the way, but RIVIAN's team have covered this too. The R1T tailgate has been cleverly designed, allowing the tailgate to open either to the normal 90 degree angle or alternatively to an easy to access 180 degree angle making access to the Truck Bed much easier.
And that's not all, RIVIAN designers have also gone a step further (see what I did there…) by adding a couple of footpegs to the inside of the tailgate (seen in silver in the picture above) which make climbing into the truck bed or accessing what's inside a much easier process too.
They've also added a rubberised lip to the edge to stop things sliding while leant against the tailgate
Again these aren't groundbreaking designs on their own, but it goes to show just how much thought has gone into these vehicles.
If your looking for added security for your truck bed then there are currently two included Tonneau cover options and both are weatherproof and lockable.
The powered tonneau cover, is part of the Adventure equipment package and integrates into the truck and slides automatically with a touch of a button. It can also be operated remotely through the app.
The manual tonneau cover is standard on base vehicles and is easily removed in four lightweight panels that store in the Gear Tunnel. The panels are also designed to lock together to double up as a useful camp table.
So once your Frunk, Gear Tunnel, Truck Bed Storage and Truck Bed are all full, you'll probably want to move onto roof rails to haul your gear around, and RIVIANS designers have been hard at work here too.
Locations have been designed onto the cab roof and truck bed sides for simple fitting of their roof bar system, and the same roof bars can be used either over the cab or over the flat bed (see images above) adding to the flexibility of their roof storage system.
Inside the RIVIANs
Moving inside and your immediately greeted by two large screens mounted into the dashboard. The drivers display sitting behind the steering wheel is 12.3″ in size and displays all the drivers information, similarly to other modern digital dash's.
Another thoughtful design and a big addition to this drivers screen is the ability to view what is directly in front of the vehicle when off road. This helps the driver to place the vehicle and avoid dangers found when driving off road. (see picture below)
The media screen sitting in the centre of the dash is a whopping 15.6″ and controls everything else in the vehicles, allowing them to be updated via the internet just like a Tesla.
You won't find many manual buttons in a RIVIAN for this reason, you can't easily update buttons and switches, but a digital screen updated over the internet can be tweaked endlessly, providing improved or a additional features while you sleep.
All the seats in the R1T & R1S are Vegan Leather and designed to be comfy, functional and easy to clean and the front seats are all electrically adjustable however heating and cooling options depend on your selected trim.
Move into the back and there's also a smaller 6.8″ touch screen in the rear, built into the back of the front armrest for 3rd & 4th zone climate control and possibly other things from the rear (see image below).
The backs of the front seats, each have a generously proportioned back seat storage area with elasticated stretch zone, a zip to remove (we're guessing to aid cleaning) and a zip pocket too and at the back of each of the front headrests the RIVIAN team have also provided another of their useful foldaway metal hooks.
Rear Passengers are also provided with a rear armrest with twin cup holders built in and a continuation of the flat floor also means rear seat passengers have more leg and foot space, especially for those who find themselves in the middle seat.
Also in the back of the R1T, there's talk of an extra space giving Under Seat Storage (see image below) however we're yet to find out if this will be included.
That covers most of the internal features, so now lets focus on the other features of the RIVIAN vehicles.
The RIVIAN skateboard is at the core of their EV's and houses Quad Motors, Independent Air Suspension, the Intelligent Battery system, the Hydraulic Roll control system and the Thermal systems.
This design not only keeps the centre of gravity extremely low with all the weight of the batteries effectively under the vehicles, providing excellent on road manners, but it also allows for impressive wheel articulation in off road conditions too.
At the time of writing (Nov2020) the R1S & R1T will come with a choice of 3 battery systems. The 105kWh which will provide a range of 240+ miles, the 135kWh with a range of 310+ miles and the 180kWh with the longest range of 410+ miles.
RIVIAN's protective underbody incorporates proprietary shielding which protects the batteries from damage from on road and off road use, and it can apparently take the weight of the full vehicle on a 1″ square replicating the kinds of pressures associated with being grounded on a rock. This sealed unit stands the RIVIAN in off road mode at 14.5 inches of Max ground clearance on 275/65R20 Tires and also allows the vehicle to wade through water at incredible depths of 39 inches / 99cm which is really only limited to this depth by the vehicles likelihood to float in deeper water.
RIVIAN's electric drive is powered by QUAD Motors that deliver instant power and torque with up to 200hp available at each wheel. Yes you read that right, up to 200hp at EACH wheel while also providing Torque Vectoring control at each corner.
Torque Vectoring assists the vehicle both on and off road, providing the right amount of power / torque to each individual wheel, improving grip, cornering ability and off road 4×4 handling too.
Torque Vectoring also allows RIVIAN vehicles to reach a 0 – 60mph time of under 3 seconds for their Mid level battery options, which considering the size and weight of these vehicles is very impressive and puts them in category normally filled with lightweight, ICE engined, sports cars from the likes of Porsche and Ferrari.
Even their slowest model is not really slow, choosing the smaller of all their battery options will still see your new RIVIAN catapulting you from 0 – 60 mph in around 5 seconds!
TOWING
Its RIVIAN's torque that also allows their S1T vehicles to have a towing capacity of up to 5 tons (5000kg) and the S1S of up to 3.5 tons (3500kg). This towing capacity is not limited by power, but instead by trade off. The more weight pulled, requires more strength in the chassis which adds to the vehicles overall weight and therefore reduces range. When designing their vehicles, RIVIAN decided that they would find a balance between towing abilities and range, and position their vehicles accordingly and so this capacity was set at 3.5 & 5 tons (for now). Additional towing assistance can be found under their safety systems below.
SAFETY Systems
Level 3 Autonomy Called Driver+ will be available on every RIVIAN and is a big part of their safety systems.
Level 3 automation means that the vehicle can take over all driving functions under certain circumstances. The less-complex highway environment (all vehicles moving in the same direction, no pedestrians, no complex intersections) is the most logical circumstance. Source Info
All major functions are automated, including braking, steering, and acceleration. It's at this level, that the driver can fully disengage until the vehicle tells them otherwise. This is where vehicles cross into true "autonomous capabilities," and where technology begins to enable substantial benefits beyond safety alone, such as increased productivity.
Going from Level 2 to Level 3 requires substantial increases in functional safety levels and system redundancies. In certain circumstances, the vehicle will need to ask the driver to re-engage. Since the driver cannot be assumed to take control instantaneously, the system will need to ensure safety for a period of time when the driver is still not engaged (for example, to pull over and stop if the driver does not respond to repeated requests to re-engage).
This additional redundancy is expected to be covered by additional sensors like radar and lidar for shape and object detection (As seen in the short Lidar, Radar & Ultra Sonic videos).
RIVIANs standard Safety Features
Automatic Driving Assistance: Help with the manual driving tasks when you want it.
Active Driving Assistance: Automatic steering, braking and acceleration on select highways while engaged.
Adaptive Cruise Control: Set your speed and automatically accelerate or brake on highways, adjusting speed to keep an appropriate distance from vehicles in front of you.
Lane Centering: Assisted steering to keep you centered within your lane.
Lane Change Assist: Assisted lane changes on the highway.
Trailer Assistance: Helps with more difficult reverse maneuvers while you have a trailer attached.
Active safety: Collision warning, alerts and preventative action.
Forward Collision Warning: Warns you of potential collisions with people and cars ahead.
Automatic Emergency Braking: Applies the brakes to help mitigate or prevent a collision.
Dynamic Brake Support: Supports your braking to help mitigate or prevent a collision.
Blind Spot Warning: Detects vehicles in your blind spots and warns you if you try to move into the lane while present.
Lane Departure Warning: Warns you if you drift too close or cross lane markers without a turn signal on.
Lane Keeping Assistance: Helps steer you back into your lane if you unintentionally drift close to or over a lane marker without a turn signal.
Automatic Emergency Steering: Helps steer you back into your lane if you drift too close to the edge of the road or it detects a potential collision, with or without a turn signal.
Rear Cross-Traffic Warning: Alerts you to traffic and people approaching from the side when backing up.
Manual Park Assist: A 360° detection system designed to help sense and alert you to objects.
Automatic High Beams: Automatically switches the headlights from high to low beams when a vehicle is detected ahead.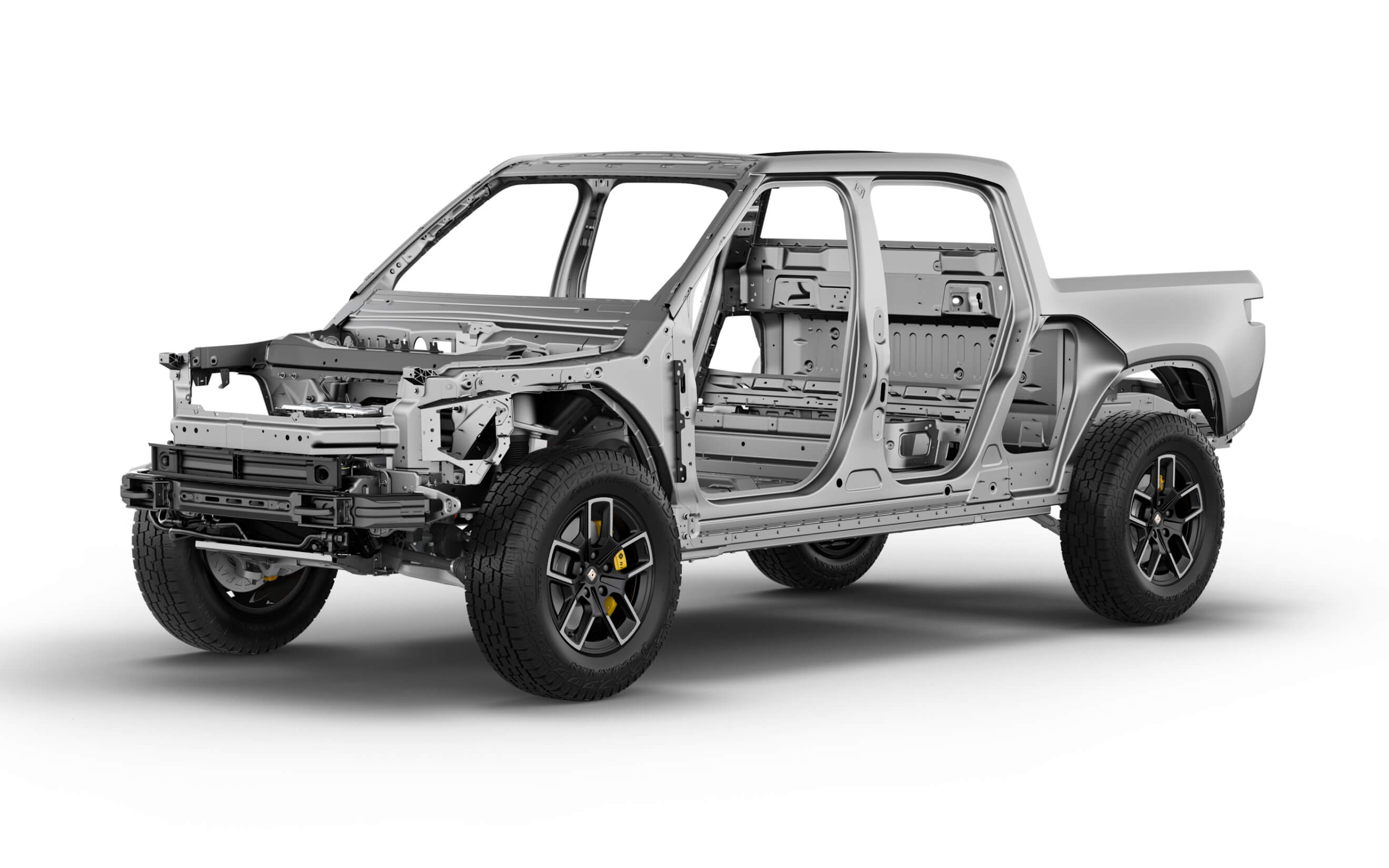 There's not much more information about Rivian's safety measures, however their safety systems and body-structure design are targeted to deliver IIHS Top Safety Pick Plus and NHTSA 5-Star ratings, made from aluminum alloy, ultra high-strength steel and carbon fiber, designed for enhanced safety
What we do know know is that features include: 8 Airbags for occupant safety and reinforcements of the skateboard platform have been added to protect the battery and therefor passengers.
Suspension & Off Road Stats
RIVIAN's advanced air suspension creates the widest range of ground clearance of any current production vehicle, starting at 8 inches for better on road manners and going up to 14 inches for better off road handling and protection. This same system also provides adaptive damping control, which adjusts damping at each corner of the vehicle optimizing traction wherever you go.
If Off Roading is your thing then the following stats are what your interested in. While both vehicles have the same approach angle provided by the same skateboard and front end designs, its at the rear and breakover where things differ due to their different shapes from the front seats backwards.
The R1S has an Approach / Departure angle of 34.8º/ 34.3º respectively and a breakover angle of 28.9º while in off road mode.
The R1T has an Approach / Departure angle of 34.8°/ 30.5°º respectively and a breakover angle of 25.7º while in off road mode.
UPDATE 12th November 2020
I was about to post this article when I received a notification that specs and pricing would soon be available and that some additional information was now on the RIVIAN website, so here's the latest information as of 12th November 2020, I've also updated the article throughout to capture some of this information too.
According to RIVIANs latest information there will be two equipment packages to choose from in their configurator, the Adventure and Explore, with an additional R1T Launch Edition package to choose from for the first to order.
Both utilize the same drivetrain and deliver uncompromising performance and handling in all conditions with quad-motor drive, independent air suspension, active damping and electro-hydraulic roll control.
In addition to being capable, both equipment packages are designed to keep you comfortable and connected. A Panoramic all-glass roof, Vegan leather seating, WiFi and 4G capability for over-the-air updates are included in both Adventure and Explore and there's also a 1000-lumen flashlight in the driver's side door, just in case.
ADVENTURE PACKAGE around £57,000 R1T and £59,000 R1S
The Adventure Package — which is included in Launch Edition — comes standard with their Off-Road Upgrade featuring a reinforced underbody shield and on-board air compressor. In the R1T, the Adventure Package adds functionality to the bed by including a powered tonneau cover and our Gear Guard remote monitoring system.
The Adventure Package features the premium interior with heated and cooled perforated vegan leather seats, natural-grained ash wood throughout the cabin and our immersive Rivian Elevation 360° audio system with removable Bluetooth speaker.
R1T and R1S deliveries with the Adventure Package that are not part of Launch Edition will begin in January 2022 in America.
EXPLORE PACKAGE around £51,400 R1T and £53,300 R1S
With the Explore Package, a sport interior features matte black finishes throughout the cabin with heated, performance-stitched vegan leather seating. A surround sound audio system is also included.
In the R1T, there's a manual tonneau cover that stores easily in the Gear Tunnel. The panels are also designed to lock together to double as a camp table
R1T and R1S deliveries with the Explore Package will begin in January 2022 in America.
BATTERY OPTIONS
At launch, every R1T and R1S comes with the 300+ mile pack. RIVIANs website says they are leading with this pack based on its optimal balance of range, performance and price.
For R1T, their 400+ mile pack will be available starting in January 2022 in America.
Initially, the R1S will only be available with the 300+ mile pack. A longer range R1S with both five- and seven-passenger seating will be announced following start of production. RIVIAN will also announce their 250+ mile range, lower priced R1T and R1S at that time.
Equipment Packages Comparison guide
I think it's safe to say I love these vehicles, and this article has taken a lot of time to put together, mainly because there's just so much to talk about.
I'm sure i've missed a few points here or there, but as I said at the beginning, its the design features that drew me to this project and why I made my bold statement, so lets hear from the design teams themselves, I think this new video really finishes this article nicely.
All Images and Videos within this article belong to RIVIAN unless otherwise stated. Information is correct at the time of posting this article.
This is NOT a paid post / review
To view similar articles on our Instinctively Pure Blog click here