The World Economic Forum, a better world for All, Or a better world for Big Business and the Richest 1%?
If you've ever come across the WEForum (World Economic Forum) on TV, YouTube or in your social media channels you'd probably have the opinion that they are a force for good, striving to bring the most important issues to the fore and tackling them with their platform.
But that's not the entire picture, the World Economic Forum is actually an NGO (Non Governmental Organisation) who's members are an elitist gathering of Big Business and the super-rich made up of not the 1%, but of the .000001%.
Their Social Media posts and Headlines are definitely news worthy, covering everything from Climate Change, COVID-19 Recovery, Human Rights and other serious issues, but here's the issue, these things should be more than just headlines.
Run a search on any search engine about WEForum / World Economic Forum and almost everything you see first will be from their own Website, Media channels or Social Media Accounts. You will also see a lot from each of their members and their Businesses, highlighting their attachment to the WEF.
It all makes the World Economic Forum look to be an organisation truly fighting for change. But not just that, it makes their members look to be the same. If we're to form a fully educated opinion about an organisation especially an organisation that holds so much power in shaping our world, then surely we should have more than just their word for what they do?
So why is this happening?
When your an NGO of this size (Non Governmental Organisation: "an organization that tries to achieve social or political aims but is not controlled by a Government.") search engines tend to trust your content, because most NGO's are seen as trying to improve things or are run by Charities. So if search engine bots are always allocating your posts and pages with a higher rating, then you can be whatever you want to be, because your content will always carry more weight and as a "Trusted Source" appear first.
It's clear the World Economic Forum want the public to see them as an organisation for good, and while they're setting agendas at their Annual meeting in Davos to respond to climate change, protect biodiversity, recover from the COVID-19 crisis, remove long-term debt and build bridges to resolve conflicts in global hotspots (source ), its easy to believe too, because it sounds good right?…
Well yes it does. These are some of the most important issues in the world right now so how could it be something to worry about?
For this, we really need to know who's really behind these messages and the real purpose behind them? Who or what benefits from their messages? Planet, People, Individuals or Businesses?
The World Economic Forum, A force for Good or Greenwashing their Partners to further riches?
The World Economic Forum is made up of around 1,000 of the world's BIGGEST Companies most with more than US$5 billion in turnover and brings together several thousand business and political leaders.
These Businesses and People are known as The World Economic Forum's "Partners" and its these Partnerships that provide an income for the World Economic Forum with Membership Fees ranging from $67,000 – $700,000 per year depending on the level of engagement and influence required within the WEForum.
"to help European businesses have better corporate management by taking into account more influential actors – including employees or governments."
Founded in 1971 by German economist Klaus Schwab as the European Management Forum, the WEF was initially setup as a way to help European businesses have better corporate management by taking into account more influential actors – including employees or governments.
It was later broadened to a platform for dialogue, adopting its current name in 1987 and being recognised as an international institution in 2015.
Their Annual meeting was historically a platform for international conversation and negotiation.
In 1988, Greece and Turkey signed a declaration preventing the countries from heading to war and in 1992, Nelson Mandela met the then South African President Frederik de Klerk in their first appearance outside South Africa.
At the 1994 annual meeting, Israeli Foreign Minister Shimon Peres and PLO chairman Yasser Arafat reached a draft agreement on Gaza and Jericho.
In October 2004, the World Economic Forum gained attention through the resignation of its CEO and executive director José María Figueres over the undeclared receipt of more than US$900,000 in consultancy fees from the French telecommunications firm Alcatel.
In January 2006, the WEF published an article in its Global Agenda magazine titled "Boycott Israel", which was distributed to all 2,340 participants of the Annual Meeting.Following the publication, Klaus Schwab described the publication as "an unacceptable failure in the editorial process".
In autumn 2015, the invitation was extended to include a North Korean delegation for the 2016 WEF, "in view of positive signs coming out of the country", the WEF organizers noted. North Korea has not been attending the WEF since 1998. The invitation was accepted. However, WEF revoked the invitation on 13 January 2016, after the 6 January 2016 North Korean nuclear test, and the country's delegation was made to subject to "existing and possible forthcoming sanctions". Despite protests by North Korea calling the decision by the WEF managing board a "sudden and irresponsible" move, the WEF committee maintained the exclusion because "under these circumstances there would be no opportunity for international dialogueun".
This annual meeting is now more of an Annual Event, made up of the world's Elite, World Leaders, Business Executives, Academics and Civil Society, and held by the now named World Economic Forum in early January in the stunning mountain resort of Davos, Switzerland.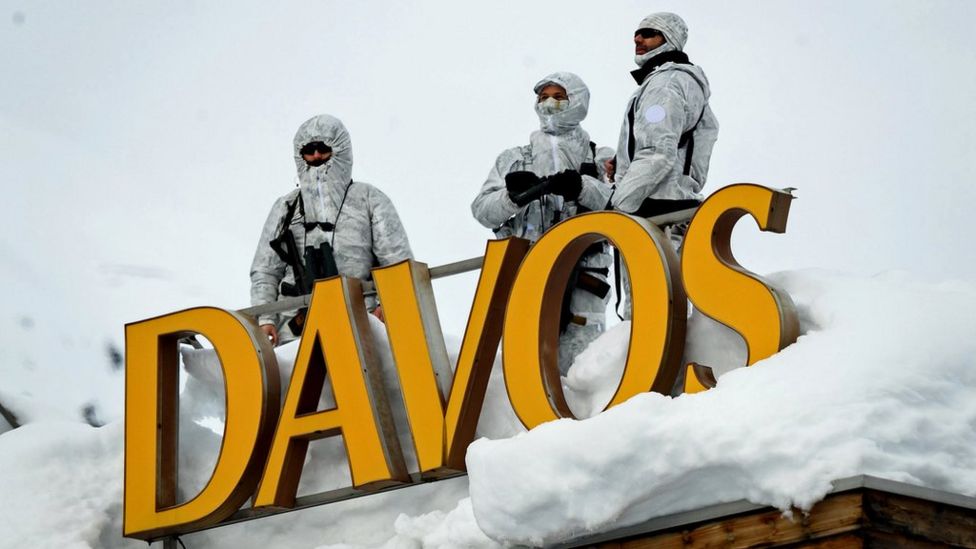 Who was at Davos 2020?
German Chancellor Angela Merkel and US President Donald Trump were among the 53 heads of state who attended the 2020 Davos event.
US Secretary of the Treasury Steven Mnuchin, Ivanka Trump, Jared Kushner, and Greta Thunberg also attended, according to Reuters. Priyanka Chopra Jonas spoke at a fireside chat about global poverty, CNBC reported.
Notably, the only Iranian on the guest list, Foreign Minister Mohammad Javad Zarif, canceled his trip amid tensions with the United States over the killing of top Iranian general Qassem Soleimani, Reuters reported.
About 3,000 business and political leaders were set to attend Davos in 2020, Reuters reported ahead of the January event. Past attendees have included Bill Gates, Prince William, Marc Benioff, and George Soros, according to the BBC. Global pop icon Shakira, actors Forest Whitaker and Matt Damon, JPMorgan Chase CEO Jamie Dimon, and former Alibaba chairman Jack Ma have also attended in the past, The New York Times reported.
According to The New York Times' Michael J. de la Merced and Russell Goldman "Without an invite, you weren't even able to access the resort. It turns into a "veritable fortress" during the event."
What are the Headline Goals and what changes, if any, do they bring about?
More Recently event goals have been directed towards worldwide needs. Prior to the COVID-19 outbreak the Davos event goals for January 2020 were: how to respond to climate change and protect biodiversity, remove long-term debt, avoid a "technology war", empower a billion people with skills over the next decade, and build bridges to resolve conflicts in global hotspots.
In 2021 under tight COVID-19 travel restrictions, the event was held online with the January 2021 goals of: addressing the global recovery from the COVID-19 pandemic, focusing on seven specific themes: saving the planet, fairer economies, technology for good, the future of work, fairer business, healthier futures and beyond geopolitics. The theme was "The Great Reset". (Other views on the Great Reset can be found here Video 1 contains strong language, Video 2)
To critics, Davos has an image of being an Elitist Event, meant for Big Business Leaders and World Leaders to network and find ways to push their own agenda's.
Economist and Nobel laureate Joseph Stiglitz, who has attended Davos since 1995, wrote in 2018 that despite surging inequality and climate change, CEOs were only concerned with populist backlash against globalisation.
"For the CEOs of Davos, it seems that tax cuts for the rich and their corporations, along with deregulation, is the answer to every country's problems," Stiglitz wrote in an opinion piece published by Project Syndicate.
The World Economic Forum has however argued that many of the attendees are from non-governmental organisations. (Remember what an NGO is?)
Several human rights organisations attend the meeting and the non-profit Oxfam International has released a report on inequality and global poverty annually to coincide with the event since 2014.
"It's great that members of civil society and economists with another vision of the world and understanding of the economy are present," said Pauline Leclère, Oxfam France's senior campaigner for tax justice and inequalities.
The international organisation focussing on poverty said in 2018 that at least 82% of the world's wealth in 2017 went to the richest 1% of the global population. The organisation will be present to bring the message that extreme inequality needs to end.
However Leclère says NGO members aren't "fooled" by the events' big, lofty political speeches. "We're waiting for them to follow up with action."
And this is the real issue, if the World Economic Forum is powered by the worlds Largest Corporations, Wealthiest Individuals and World Leaders of our time, and their true intentions really are to fix all the Inequalities and World Issues that are present, then why haven't at least some of these issues already been fixed or even improved?
Why do we still have issues with Plastic, Over Fishing, Slavery, Discrimination, Emissions, Greed, Social Justice and all the other issues they discuss at their yearly meetings in Davos?
If we're expecting change to come from these memberships and annual meetings at Davos, then we really need to open our eyes. The World Economic Forum and their Annual Meeting in Davos, is made up of those few with the most power to create change, but also with the most to lose in doing so too.
The bottom line comes first, the only interest these people and businesses really have is Year On Year Growth & Profits at all costs.
So if WEF members aren't there because they want to act, why do huge Corporations, Businesses, Rich Individuals and World Leaders become members??
You can see why critics think It can only be for the networking and profit making off the back of Feel Good headlines and articles, especially when you see how they all love to highlight their involvement with the WEF and Davos events.
So while the World Economic Forum continues to push and discuss ideas to improve these issues, its clear that action isn't really what membership requires, nor does it seem many members actually follow their own advice.
Who are the main voices and attendees at WEF & their events?
Attendance information gathered by TNI at the Davos event in 2015 showed that it was highly dominated by men with 83% of attendees from Europe and 75% from the US being male.
In 2016 TNI also analysed the Board of the World Economic Forum, to understand them better. They carried out analysis on the NGO's 24 Board members to analyse whether the group entrusted with guarding WEF's "mission and values" were truly representative and accountable to society.
The research showed that at the time:
Only 6 of its 24 Board members were women (25%)
16 were from North America and Europe (67%) and there was not a single African Board member.
Half of the Board (12) were current corporate executives. However if you looked at their careers, 16 had a corporate background (67%)
22 of the 24 went to universities in US and Europe; 10 went to the same university (Harvard)
Only one member can be said to represent civil society (Peter Maurer of Red Cross).
There were no representatives of Trade Unions, Public Sector Organisations, Human Rights Groups, Peasant or Indigenous Organisations, Students or Youth.
A closer look at the backgrounds of some of the Board members also revealed a high prevalence of narrow ideological thinking and conflicts of interest. A number were leaders of corporations with a history of social and environmental abuses – all of which raised serious questions about the Board's supposed mission to "promote true global citizenship".
They also noted that a closer look at the backgrounds of some of the WEF Board members also revealed a high prevalence of narrow ideological thinking and conflicts of interest:
Peter Brabeck-Letmathe, Chairman of Nestlé is known for declaring the human right to water as an 'Extreme' view. Nestle has a controversial corporate history in relation to bottling of water, marketing of babymilk substitutes and child labour on cocoa plantations in Ivory Coast.
Christine Lagarde, Managing Director of the IMF, faced charges in French courts for "negligence" for her role in a 2008 €403 million arbitration deal in favour of businessman Bernard Tapie.
Mukhesh Ambani, Chairman of Reliance Industries, also known for being India's richest man, with a $1 billion home with 27 floors for a family of six, in a country where 40% of the country's children are malnourished.
Heiko Takenaka, Director of Global Security Research Institute, Keio University, Japan has faced political controversy over his postal privatisation plan as well as for switching residential status between Japan and the United States in order to avoid income tax.
So why do the TNI think this matters?
WEF likes to project itself as a Concerned Global Actor, distressed by growing inequality and concerned to build a progressive globalisation.
However when its own governing structures are dominated by the richest oligarchs and corporate executives obsessed with minimising regulations for corporate profits, it raises questions about whose interests they really serve.
Political scientist and TNI Board President Susan George has called these elites, the "Davos Class", a "nomadic, powerful and interchangeable" class that "despite its members' nice manners and well-tailored clothes, is predatory."
The real concern is not just that the 'Davos class' gets a chance to meet and strategise, but rather that they advance global agendas that largely serve their own economic interests and disproportionately impact on the poor, with no democratic accountability.
There is evidence that discussions at the World Economic Forum have stimulated the negotiation of new free trade agreements that have led to job losses and a massive rise in corporate litigations against states; facilitated the formation of the G20 that brought a few small actors into global policy-making but continues to exclude the vast majority of nations; and provided the forum for banks to successfully lobby government officials to limit necessary regulations on financial industry in the aftermath of the global crisis.
Conclusion
As people who fell for the WEF headlines and social media posts ourselves, it's tough to write this post.
With so much opportunity to actually change the world for the better, its clear now that nothing will really change at all off the back of all the World Economic Forum meetings, videos and posts.
You can form your own opinions from the source links below, but to me it just looks like another big Green Washing Exercise.
Source Source Source Source Source Source IvankaTrump image
1. http://www.weforum.org/about/world-economic-forum
2. http://www.weforum.org/agenda/2015/01/infographic-who-is-at-davos-2015/
3. https://www.tni.org/en/article/the-davos-class
4. https://www.tni.org/en/article/world-economic-forum-history-and-analysis
5. https://www.tni.org/sites/www.tni.org/files/download/state_of_davos_chap…